Bodrum - Turkbuku Güllük Gulf Tour Plan
SAILING TRIP TO BODRUM & TURKBUKU, GULLUK GULF

Gümüşlük, Türkbükü, Yalıkavak, Torba, Gulluk, Kiyikislacik, IASOS, Didim, Aktur, TurgutReis :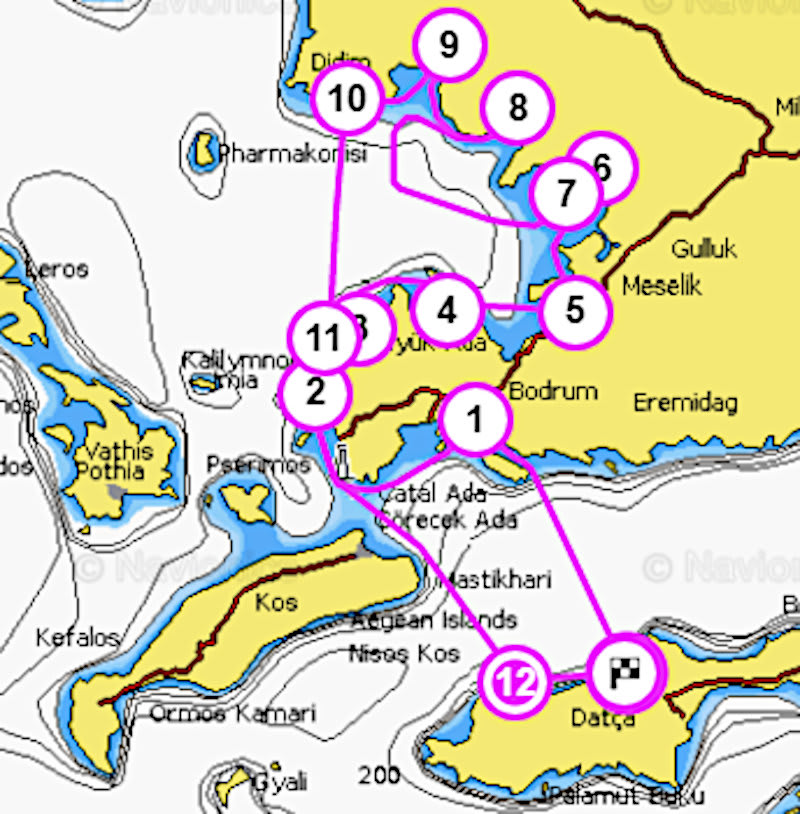 We invite you to join our Bodrum - Turkbuku sailing tour and explore the natural beauty of the Mediterranean and Aegean Sea ; swim on pristine white beaches, stroll through unspoilt villages, explore perfectly preserved historic ruins...what are you waiting for? Immerse yourself in the relaxing Aegean culture, witness the countless hues of blue and green, as the sea, sky and land merge into a breathtakingly beautiful visualization of the surrounding natural environment. Let all your worries be washed away by the gentle swell and all your frustrations whisked away by the lazy breeze. Start every day with absolute peace, as you awaken to the hypnotic lapping of waves upon the hull and dive into the crystal clear sea.
This route offers a wide variety of places to be seen. You will be able to experience two tourism capitols of the South Aegean, unspoilt bays and prehistoric ruins, all in one tour.
Relax aboard our IYT-certified training yachts, all the while learning the art of sailing and forging an unforgettable vacation experrience. Once you successfully complete the training course, you will be awarded with an IYT certificate that will allow you to charter a yacht anywhere in the world. You can view the various IYT certificates we offer on our IYT License page.
PROGRAM
Day 1 Datça - Cairos Marina
Our yachts are based in Cairos Marina . Arrive to the yacht and spend the night aboard in the Marina. You can also use the opportunity to do some shopping in the marina and stock up for your sailing trip.
0nm
Day 2 Cairos Marina – Bodrum
Another long leg with an early start. Bodrum is an inviting, colorful crowd full of surprises, sometimes a humble wiseacre and a loose wise man, sometimes it is an alone crazy, it is freedom, love; Bodrum is sun, sea and after all it is history… In short Bodrum is everything and everybody. Because everybody has it is own Bodrum here. Some live a modest, peaceful and quiet life, some live crazily madly. Bodrum is a White that bears all colors and also internalizes them. It rains different here and also the sun rise different and sets completely different. Wind blows different, sea smells else. Bodrum is the naughtiest, the haughtiest, the most inert, the most beautiful, the most honest and the most frank child of Nature Mother.
35nm
Day 3 Bodrum - Gumusluk
Departure is early again for this leg. Gümüşlük, a seaside village on the western shore of the Bodrum peninsula, is known for its fishing-village charm, its simple but delicious waterfront restaurants and its spectacular sunset views. If you visit Gümüşlük, it will most likely be for one of those sunset seafood dinners—which, I wager, you will remember for years. Gümüşlük stands on the site of the ancient Carian city of Myndus whose seafront sections slid into the sea in some long-forgotten earthquake. Today these barely submerged remains are a magnet for snorkelers and underwater photographers.
35nm
Day 4 Gumusluk – Turkbuku
Departure is early again for this leg. Türkbükü has a well-protected harbor, ringed with high hills that contain a number of luxury hotels and holiday villas. The cape of Gölbükü and surrounding islands protect the bay from waves. The town is a favorite vacation spot and second residency of many upper-class Turks and although less visited by West European tourists, compared to Bodrum, Türkbükü has become increasingly popular with foreign visitors. There are no broad sandy beaches, but a semi-circular boardwalk, dense with shops, restaurants, bars and docks for sunbathing in the day and dining in the evening, circles the bay. The protected harbor is also a refuge for yachts and allows for swimming pool-like conditions in the morning before the afternoon breeze comes in. In the high tourist season, Turkish pop-stars, models and professional athletes can be sighted at the posh bars and restaurants or strolling along the boardwalk, justifying the popular labeling of Türkbükü as the Saint-Tropez of Turkey.
25nm
Day 5 Turkbuku - Torba
The pebbled beach wraps itself around Torba Bay, and the clear blue Aegean sea is fantastic for families wishing to swim or pursue various water sports. Drinks and snacks are available throughout the day on the beach, and there are small shops that sell beach items. Sun beds and umbrellas are available for hire, and some stretches are shaded by eucalyptus trees. At night, Torba Bay sparkles with candlelight from the upmarket (but not expensive) restaurants, dotted around the bay. Freshly caught fish, meze and a variety of mediterranean food is available.
25nm
Day 6 Torba - Guvercinlik
It is a beautiful fishing village, surrounded by nature. It is enclosed sea like a lake. Guvercinlik is surrounded with small restaurants, hotels and houses. There is Salih Island on the shore. The hills to the east of the tall and wide Salih Island are covered in pines and lower parts in olive trees. The best on the island is the cove where there is a white house on the south east part of Salih. Despite the pollution created by the fish farms nearby, the sea is still very clean. There is another holiday area consisting of seven or eight villas in the south. There are almost no historic remains to prove, although it is claimed that the island of Salih was the location of old Karyanda.
25nm
Day 7 Guvercinlik - Kiyikislacik (Iasos)
Kıyıkışlacık Bay is a natural harbor that is highly favorable for fishing. You can buy fish or eat a delicious meal in one of the fish restaurants on the coast. The view of the ruins of the Iasos ancient city on the other side of the harbor and the centuries old olive trees. The harbor in the center of the village is a rare kind of natural harbor-bay; there is a peninsula that is covered with olive trees on one side and there is another peninsula, in which the Iasos ancient city resides on the other side. The most important reason for building the Iasos here was probably the presence of such a sheltered, natural harbor. Iasos, the oldest settlement in the city is dated to late 3000s AD. The buildings and structures of the Agora are dated to different periods of structure: Bronze Age Structures, Geometric Period Necropolis, Classical Period (Double Axes Sacred Area) and Late Hellenistic Period. You should visit the Fish Market Museum, where a certain part of the finds of regular excavations in Iasos ancient city, which were done by the Italian Archeology Commission since 1960, are exhibited. The mole tower at the mouth of the harbor is a Medieval Age structure. The other tower across it was destroyed. In the past, a chain was stretched across the 52 meters wide entrance gap between the two lighthouses to control the sea traffic. It is still possible to reach the lighthouse by walking on the shore and passing through the stones of the mole that are still above the sea level.
25nm
Day 8 Kiyikislacik - Kazikli
Kazikli is famous for its fish farms, though they are reduced in number these days. It is rocky in the east and exposed to any winds. There are pine trees lining the western area which has many small coves. Fewer boats visit these days though that is an advantage at times. The main harbour is Pile in the north, a cove and well-sheltered.
25nm
Day 9 Kazikli - Akbuk
Akbük (meaning "white bay") is a small holiday resort on a bay in the Aegean Region near Didim and with a permanent population of 4,000. Akbuk is one of the place where blue and green tones come together. The deep blue sea is shallow and clear. It is suitable for all water sport activities in this unique sea. (Scuba Diving, Windsurfing and etc…). It used to be a small town where all fishermen caught delicious Aegean sea-bass, but now it is a rapidly growing tourism resort with its holiday complexes as well as summer houses, villas, a small harbour, hotels…
25nm
Day 10 Akbuk - Didim
Didim takes its name from ancient Didyma, situated close to the modern town. During the Ottoman Empire era, the town was known as Yoranda or Yoran. Didim known for its long sandy beaches, clear blue sea, ancient ruins, and its own microclimate, benefiting from hundreds of days of sun annually and warm winters, allowing residents to use the beaches and engage in watersports even in January. Didim town has hotels, a weekly market, a waterpark, and the antique Temple of Apollo nearby. Didim is also close to a number of other ancient towns and natural formations, such as Lake Bafa national park, the Büyük Menderes River, and historic sites like Miletus and Priene. Didim was small town with fishing village roots, urbanized places to buy property in Turkey, it has attracted a large expat community. Apollo Temple is the most notable landmark. Dating from its time as a pagan worshipping centre, it marks the end of the famous sacred way that was a pilgrimage route from the ancient city of Miletus. As a renowned oracle of the Hellenistic world, it comes a close second to the oracle of Delhi in Greece and had building work continued, it would have been bigger. Dedicated to the Greek gods of Apollo and Artemis, it is the most popular tourist attraction in the region.
25nm
Day 11 Didim – Yalıkavak
We have short leg today to Yalikavak. This area seems to be a little known gem. The water is absolutely clear, the wind (Meltemi) appears at 14:00 every day to provide good sailing until around 18:00 by which time it drops away to allow wonderful evenings at anchorage in the most delightful secluded bays. There are three coves in the northern part, this anchorage is known as Küdür. Take time to explore the village of Sandıma. Sandıma is a deserted Greek village, renovation works are being carried out.
20nm
Day 12 Yalikavak - Turgutreis
Turgutreis is a charming coastal resort, backed by green mountains, surrounded by the crystal waters of the Aegean and shined upon by the blue skies of the summer season. Previously, this popular resort was known as Karatoprak, however the name was changed to Turgutreis in 1972 to respect a Turkish sailor who was born there in 1485. Because of its suitable winds, Turgutreis coast is favored by professional wind surfers. Because of it market day on Saturdays, it also attracts many people. This volcanic area is interesting and offers possibilities for walking and trekking tours. Visitors enjoy the volcanic landscape which is very dramatic and impressive. The 14 small islands, located nearby Turgutreis, are used by farmers as additional pasture land for their animals and by the local fishermen for fishing. These islands and beautiful coastline offers great possibilities for boat, diving and sailing tours.
25nm
Day 13 TurgutReis – Mersincik
Another long leg with an early start. Return leg will be long and mostly downwind. We anchor at Mersincik, a lovely bay fronted by steep pine-covered slopes and pebble beaches.
35nm
Day 14 Mersincik – Datca Cairos Marina
Departure is early again for this leg. After a swimming break We go downwind for our marina. You can leave tonite or spend a night at Datca restorants. Saturday morning boats will be cleaned, So you need to leave before 9:00
TOTAL
325nm

ACCOMODATION
You will stay on board the yacht for 14 nights in a typical two week program
Our sailing yachts have 4 cabins plus an additional skippers' cabin..
We take a maximum of 6 people on one yacht
We provide bed sheets, pillow covers and a towel for each person
FOOD
The crew of each sailing yacht will make a collective shopping and share costs equally. We can provide a suggested shopping list. People can decide on whether to cook on board or enjoy local delicacies in seaside restaurants. The Skipper/Instructor is fed at the crews' expense.
PROGRAM
We stop in a different bay or island for each night. Our routes are published yearly and they will be either along the Turkish coast or Greek Islands depending on the particular week(s). You can browse through our routes here:(

Program

)

In the morning, an optional tour/trek will be organized by the Skipper at 8:00 AM to visit a historical site or just enjoy nature. Theory is taught after breakfast (10:00-12:00)

In our region, the wind usually picks up at around 12:00 PM, so we depart for our next location at around noon.

After arrival to our destination (16:00-18:00), people will have free time until dinner. You may choose to swim, rest, study or go for a nature walk.

Dinner is held at 19:30 and continues for a few hours as we enjoy the local cuisine and indulge in conversation. After dinner you may participate in playing games (cards, chess, etc.), listening to music or just enjoying nature…
CHECK-IN and CHECK-OUT
Saturday is check-in and meeting day. Our sailing yachts are located in Cairos Marina (on C Pontoon) .You can check in anytime after 16:00 and settle on board.

Our first briefing is held at approximately 17:00 and then we stock up on provisions. We have our first dinner together in the marina and afterwards people can explore the colorful Marmarisian night life!

Sunday is our first day of sailing. We finish last minute shopping and start our voyage around noon.

Our sailing tour ends Friday (1 or 2 weeks later); after 16:00. You may leave the yacht or stay one more night to enjoy Marmaris. All Yachts have to be empty by 10:00 on Saturday morning to allow for cleaning and preparation for the next group.
PRICES
Two weeks of sail training, trip to Bodrum/Turkbuku starts from 1500 Euros. Bareboat Skipper License is an additional 200 Euros.
RESERVATION
You can call Tansel +90(541) 4561366 or Wesley +90(539)3085771, Email us: This email address is being protected from spambots. You need JavaScript enabled to view it. or make a self-reservation from our web

reservation

.
We require a 25% deposit in order to confirm your reservation. You will receive a confirmation form after your payment.
Tags:
SAILING TRIP TO HISARONU GULF
Tags: Bodrum sailing, Bodrum tour, Bodrum sailing tour, sailing tour, sailing vacation, sailing school, bodrum, türkbükü, knidos, gümüşlük, yalıkavak, bozukkale, palamutbükü, hayıtbükü, sailing training,