Sailing to Crete
Rodos, Lindos, Karpathos, Kasos, Sitia, Agios Nikolaos, Spinalonga, Halki :
Sun, white beaches untouched by civilization, life and traditions of the ethnic group of tiny villages, well preserved ruins of ancient cities .... what else can be better than an adventure and fun ?! We invite you to join our sailing trip to the Greek island of Crete and enjoy the relaxed and leisurely culture of the Aegean Sea , to visit the best of our selected local tavernas - try the delicious taste of the Greek islands.
Our school is located in the southern Aegean Sea, you can start to enjoy the exquisite and the unique taste of Greece, right away! We offer a two-week tour in Crete . If you are not a resident or citizen of the European Union to participate in swimming you need a valid Schengen visa. Drop anchor in a secluded cove and enjoy a relaxing holiday on a yacht, a certified IYT system to create their unique and unrepeatable experience in the process learning the art of navigation and sail control. Upon successful completion of the course, you will receive a certificate skipper IYT, which will allow you to take the Yacht charter all over the world. You can also learn about other licensing options IYT, which we offer in the section License ..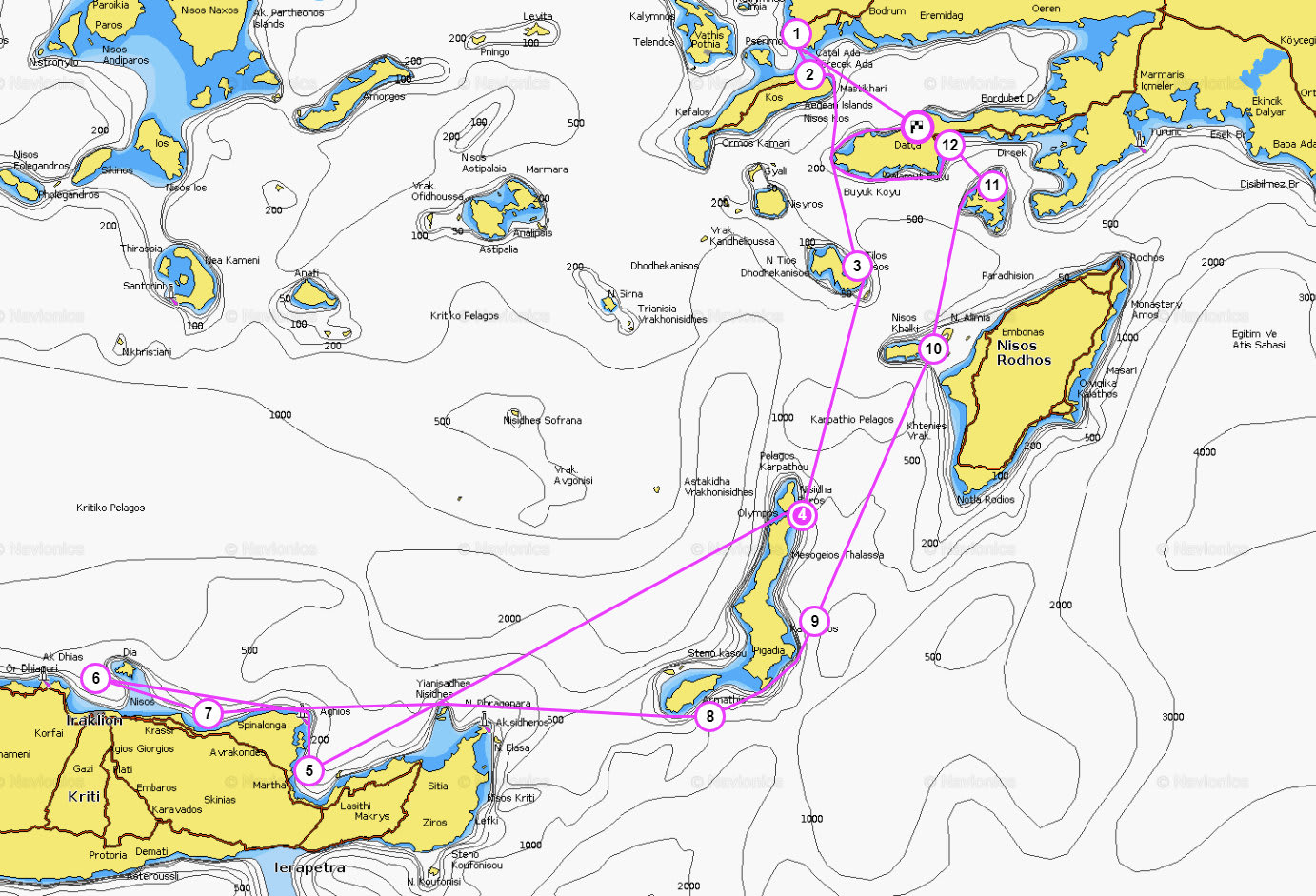 PROGRAM
Day 1 Datça - Cairos Marina
Our yachts are based in Cairos Marina . Arrive to the yacht and spend the night aboard in the Marina. You can also use the opportunity to do some shopping in the marina and stock up for your sailing trip.
0nm
Day 2 Cairos - Turgutreis - Kos
Sunday: After breakfast, we conduct a group shopping. Than We leave for TurgutReis for customs procedures. As soon as our documents are ready for exit, we depart from Turgutreis. Our first stop is the lovely Island of Kos. Kos is the most fertile island of the group and the second most touristy and popular island after cosmopolitan Rhodes. Kos is an attractive island with appealing mountainous villages, an excellent infrastructure, verdant landscape, abundant ground water and superb beaches of various sizes and colors. Rich in history, with abundant ancient ruins, as well as modern, lively towns, Kos is most enjoyable. Usually dinner continues well into the evening, the night being filled with laughter and memorable conversations. Water, electricity, wi-fi, hot showers and toliets are provided by the restuarant.
35nm
Day 3 Kos- Tilos
After 2 days rest, the new destination is the island of Tilos; here we moor at the charming seaside village of Lividia. On the hill, the abandonded roofless houses of Micro Horio are visible. Here, nestled between the ruins of this ancient village, lies the infamous Micro Bar: a classic rock bar/club with a very unique setting, definetly a place to witness! Wander through the bustling village, filled with quaint single-story buildings or bathe in the azure waters surrounding this unspoilt paradise. Dinner is usually served at our favorite restuarant: friendly staff and the best roast goatmeat you have ever tasted!
40nm
Day 4 Tilos - Karpathos
Early departures that will be common in this voyage. Karpathos - big, but not enough zasёlenny island; away from it all, he remained unspoiled, well illustrated by the dialect, clothes and signs. Karpathos is replete with wild beaches and lots of paths leading to the hidden corners of the island.
45nm
Day 5 Karpathos - Kasos Island
This small island is covered with rocky hills, and from afar looks like a miniaturny Rhodes. Despite the dreary first impressions going, the island is famous for its fish, cheeses and hospitality of residents.
35nm
Day 6 Kasos - Sitia
again early exit, now on the island of Crete, the most striking of all, which we will visit, as well as the largest island in Greece. The island attracts identity of local mountain villages, excellent infrastructure, green scenery, an abundance of clean groundwater sources, as well as world-class beaches of all sizes and colors. Rich in its history, numerous ruins of ancient times, along with modern, densely populated cities. Crete an important part of the Greek economy and culture. Our first stop in Crete Sitia nazyvaetsya, pribrezhnyi beautiful town.
40nm
Day 7 Sitia - Agios Nikolaos
The next stop in the town of Agios Nikolaos. Tourist town, which is located in Crete and very pleasant; we are going to stand for two days. You can rent mashynu / moped to explore how to follow the beautiful island of Crete and the ego a secret.
30nm
Day 8 Agios Nikolaos - Spinalonga
Go north to the island of Spinalonga. There we anchor stand and disembark to see a fortress, to control the entrance to the Gulf of Elounda.;
20nm
Day 9 Sitia - Kasos
Exit and re-Sitia. There you can again enjoy the natural vision the city and beaches.
45nm
Day 10 Kasos - Karpathos
On the way back to the island of Karpathos again. Nochuёm in a well-protected harbor..
25nm
Day 11 Karpathos - Halki
next island called Halki. Here you can immerse yourself in the unique harmony of nature and history. The island is located away from the tourist routes and almost touched the heel of global commercialization. A small population of the island is very friendly and welcoming. Take a walk through a local village and a taste of real Greece.
40nm
Day 12 Halki - Symi Island
We start our 3rd leg at around noon, sailing towards the romantic island of Symi. Upon arrival to the cozy village of Symi, you are free to roam the narrow streets and explore the authentic Greek houses; many of which are still occupied by relatives of the original builders. Indulge yourself in a bit of shopping amongst the numerous local shops, where you can find truly unique items and aqquaint yourself with the local populace. Symi is the ideal destination for the romantic type, for those who are looking for something special, such as a tranquil atmosphere, postcard-like scenery and secluded coves. We dine in our favorite local taverna in the evening.
35nm
Day 13 Symi Island – Knidos
Departure is early for this leg, since we will have a lengthy upwind haul. Knidos, which dates back to 700 BC, was nominated as one of the wonders of world. You can wander through most of this huge ancient city. The accompanying bay is also a lovely place to swim and views from the nearby lighthouse are fantastic!
40nm
Day 14 Knidos – Datca Cairos Marina
Departure is early again for this leg. After a swimming break We go downwind for our marina. You can leave tonite or spend a night at Datca restorants. Saturday morning boats will be cleaned, So you need to leave before 9:00
30nm
TOTAL
430nm

ACCOMODATION
You will stay on board the yacht for 14 nights in a typical two week program
Our sailing yachts have 4 cabins plus an additional skippers' cabin..
We take a maximum of 6 people on one yacht
We provide bed sheets, pillow covers and a towel for each person
FOOD
The crew of each sailing yacht will make a collective shopping and share costs equally. We can provide a suggested shopping list. People can decide on whether to cook on board or enjoy local delicacies in seaside restaurants. The Skipper/Instructor is fed at the crews' expense.
PROGRAM
We stop in a different bay or island for each night. Our routes are published yearly and they will be either along the Turkish coast or Greek Islands depending on the particular week(s). You can browse through our routes here:(

Program

)

In the morning, an optional tour/trek will be organized by the Skipper at 8:00 AM to visit a historical site or just enjoy nature. Theory is taught after breakfast (10:00-12:00)

In our region, the wind usually picks up at around 12:00 PM, so we depart for our next location at around noon.

After arrival to our destination (16:00-18:00), people will have free time until dinner. You may choose to swim, rest, study or go for a nature walk.

Dinner is held at 19:30 and continues for a few hours as we enjoy the local cuisine and indulge in conversation. After dinner you may participate in playing games (cards, chess, etc.), listening to music or just enjoying nature…
CHECK-IN and CHECK-OUT
Saturday is check-in and meeting day. Our sailing yachts are located in Netsel Marina (on C Pontoon) .You can check in anytime after 16:00 and settle on board.

Our first briefing is held at approximately 17:00 and then we stock up on provisions. We have our first dinner together in the marina and afterwards people can explore the colorful Marmarisian night life!

Sunday is our first day of sailing. We finish last minute shopping and start our voyage around noon.

Our sailing tour ends Friday (1 or 2 weeks later); after 16:00. You may leave the yacht or stay one more night to enjoy Marmaris. All Yachts have to be empty by 10:00 on Saturday morning to allow for cleaning and preparation for the next group.
PRICES
Two weeks of sail training, trip to CRETE starts from 1800 Euros. Bareboat Skipper License is an additional 200 Euros.
If there is less than 3 people, Participants needs to share the cost of entry/exit procedures.
RESERVATION
You can call Tansel +90(541) 4561366 or Wesley +90(539)3085771, Email us: This email address is being protected from spambots. You need JavaScript enabled to view it. or make a self-reservation from our web

reservation

.
We require a 25% deposit in order to confirm your reservation. You will receive a confirmation form after your payment.
Tags:
SAILING TRIP TO CRETE
Tags: Greek islands, greek islands sailing, greek islands tour, greek islands sailing tour, sailing tour, sailing vacation, rodos, karpathos, kalos khalki, crete, sitia, Agios Nikolaos , sailing training