Gokova Gulf Tour Plan
SAILING TRIP TO GOKOVA GULF

Çatı, Balıkaşıran, Bördübet, 7 adalar, Tuzla, Kargıbük, Löngöz, Okluk, Karacasöğüt, Akbük, Çökertme, Bodrum, Gümüşlük, Mersincik :
We invite you to join Gokova Gulf sailing training tour and explore the natural beauty of the Mediterranean and Aegean Sea ; swim on pristine white beaches, stroll through unspoilt villages, explore perfectly preserved historic ruins...what are you waiting for? Come join us on Gokova Gulf tour and immerse yourself in the relaxing Aegean culture, witness the countless hues of blue and green, as the sea, sky and land merge into a breathtakingly beautiful visualization of the surrounding natural environment. Let all your worries be washed away by the gentle swell and all your frustrations whisked away by the lazy breeze. Start every day with absolute peace, as you awaken to the hypnotic lapping of waves upon the hull and dive into the crystal clear sea.
The shoreline of the Gokova Gulf is dotted with hundreds of bays, coves and harbours; making it a truly unique place to visit. This allows us to visit a different bay every evening, taking in the breath-taking scenery and relaxing in tranquil fjords. A world famous location for kite-boarding and wind-surfing, Gokova is renowned for its constant wind and perfect weather conditions, making it the ideal area to indulge yourself in all things nautical.
Vacation aboard our IYT-certified training yachts, all the while learning the art of sailing and forging an unforgettable vacation experience. Once you successfully complete the training course, you will be awarded with an IYT certificate that will allow you to charter a yacht anywhere in the world. You can view the various IYT certificates we offer on our IYT License page.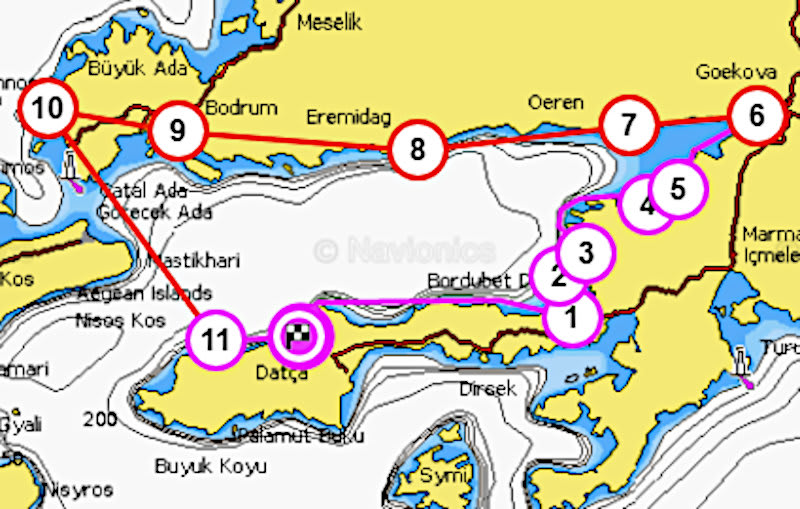 PROGRAM
Day 1 Datça - Cairos Marina
Our yachts are based in Cairos Marina . Arrive to the yacht and spend the night aboard in the Marina. You can also use the opportunity to do some shopping in the marina and stock up for your sailing trip.
0nm
Day 2 Kairos Marina – Buyuk Cati
Departure is early for this part, since we will have a long upwind leg. Cati is natural harbour, catering to all kinds of vessels, mostly gulets and sailing yachts. Enveloped by a luscious pine forest, the harbor offers a "pool-like" environment, perfect for frolicking in the water or taking a relaxed excursion through the pine-scented trees. On moonlit nights, the looming pines cast ethereal shadows onto the glassy sea, painting a hauntingly captivating sketch of this fascinating fjord.
35nm
Day 3 Cati – Balikasiran, Bordubet, 7 Islands
Now the time has come to enjoy the bays of Gokova! We will do small trips to three bays, stopping for swimming breaks. Balikasiran is the place where the Gulf of Hisaronu and Gokova are closest to each other. This place is accepted as the beginning point of Datca Peninsula. Bordubet: named after the multitude of birds nesting here, you can take a walk and be accompanied by the soft chirping emanating from the trees. There is a river flowing into sea, you can paddle upstream and explore with a dinghy. 7 Islands: Four islands located near the southern shores of Gokova, they create a small gulf between them and the shore. You can find many calm places to anchor between the bays of the shore and the islands. In the west lies Martili, a bare, rocky island; although there are beautiful beaches on the south and east side of the island. The other islands are Uzun, Zeytinli and Kucuk. They all have steep, rocky shores and no sandy beaches. The islands are mostly barren, but covered with pine trees near the coves. Küfre bay is the most popular in this region. All coves are linked to one another with dirt trails.
20nm
Day 4 5 Islands – Tuzla, Longoz, Kargıbuk, Okluk
Today we will hop around more bays. First stop is Tuzla bay, a perfect swimming spot, then Longoz (Kargibuk). Longoz is a sheltered cove, situated between forests. There are usually only a few boats here. Löngöz is back to back with Ballısu bay. Ballisu is a very deep bay with a narrow entrance, once inside, the bay twists into the land. A creek flows into the bay. There used to be a thick pine forest around the bay but ten years ago a fire decimated most of the region...it is slowly growing back now. Final destination is Okluk, commonly known as the pearl of Gokova. The lasrgest cove is actually called Degirmendere. When entering this cove, you will see another inlet called British Harbor. During World War I, British warships used to hide here, bombarding the Germans at night and retreating into this cove at daylight. There is a Presidential Residence located at the south part of the bay. On the north side, you can observe the statue of a mermaid in the water, erected by Sadun Boro. The air is heavy with the scent of pine and trees line all of the shore, a perfect setting for a relaxing evening.
25nm
Day 6 Okluk – Karacasogut
After making short breaks at Ingiliz Bay, Ayın Bay, we sail to our last stop for the day, Karacasogut. This harbor is one of the popular destinations for yachts in the region. A must-see is the Karaca Cave, including the Sogut Waterfall, which falls from a height of 25 meters into a natural freshwater pool. There are two sections in the Karaca Cave, enter through the main entrance and explore the rest via dinghy. The total cave length is 420 meters, at a depth of 15 meters, and it houses two lakes. Amateur explorers should only enter the cave with guides and you should follow them very closely. A one kilometer section of the cave is still closed and renovation works are in progress to open this section to the public. There are ruins of an ancient city on a hill near Karacasogut. As you get closer to the hill, you begin see the necropolis of the city, the city walls, tombs, and cisterns. There are also remains of an ancient temple nearby. The ruins of the ancient city of Amnistos are on a headland near the village. The city's walls and port are visible.
25nm
Day 7 Karacasogut - Akyaka
You can just sit back and relax, soaking in the views and the great weather, enjoying the beach. IThere are beautiful pine clad mountains surrounding Akyaka and Gokova just waiting to be hiked and explored, and they are well of the usual beaten track. You will be rewarded with some magnificent views. The main village beach of hard sand is packed with sunbeds and umbrellas, and gets very busy throughout the Turkish school holidays from late June to August. Pedalos and kayaks are available for hire at the far end. However, a better choice is the picturesque Cinar beach, best reached by a 45-minute walk along the promenade and through the shady eucalyptus forest and campsite bordering the sea. Gokova Bay with its 6 months continuous wind and open space is naturally very suitable for kiteboarding and has become one of the most attractive locations for beginners as well as having made a memorable impression on professional kiteboarders.The fantastic bay located hidden amongst the high mountains gives a riding opportunity to all levels of riders due to its increasing onshore daily summer breeze throughout the day time.
25nm
Day 8 Akyaka - Akbuk
Our first leg on the way back will be long and mostly against the wind. We moor at the restourant pier Akbuk, a beautiful bay lined with steep, pine-covered slopes and pebble beaches. In the summer, people spend their weekends here. There are only a few restaurants and one-story prefabricated houses. Akbuek is a wonderful combination of green and blue. The bay fascinates with the cold water fed by a small river, the landscape surrounded by forested mountains and the immaculate blue sea.
25nm
Day 9 Akbuk - Cokertme
Another short haul to Cokertme.

Çökertme is on the northern coast of the Gulf of Gokova and between Kepçe Cape and Karaburun Cape. The bay takes its the name from village in the harbor . Çökertme is quite sheltered against winds from the west to the north and east. Çökertme is one of the most preferred bays in Gokova by yachtsmen. Its coast is very long, the shores of the island are covered with pines and olive trees. The name of Çökertme is not just famous because of local songs, It has also fascinating geographical features . The green pine forest and the vast indented coves of this bays huggs the Yachts approaching. Watch the sunset and coastal fishing and taste the sinarit, tangri freshly cooked in restaurants. Çökertme which is an natural harbor is not the first or last stop is of blue voyage sailor.

30nm
Day 10,11 Cokertme – Bodrum
Another long leg with an early start. Bodrum is an inviting, colorful crowd full of surprises, sometimes a humble wiseacre and a loose wise man, sometimes it is an alone crazy, it is freedom, love; Bodrum is sun, sea and after all it is history… In short Bodrum is everything and everybody. Because everybody has it is own Bodrum here. Some live a modest, peaceful and quiet life, some live crazily madly. Bodrum is a White that bears all colors and also internalizes them. It rains different here and also the sun rise different and sets completely different. Wind blows different, sea smells else. Bodrum is the naughtiest, the haughtiest, the most inert, the most beautiful, the most honest and the most frank child of Nature Mother.
35nm
Day 12 Bodrum - Gumusluk
Departure is early again for this leg. Gümüşlük, a seaside village on the western shore of the Bodrum peninsula, is known for its fishing-village charm, its simple but delicious waterfront restaurants and its spectacular sunset views. If you visit Gümüşlük, it will most likely be for one of those sunset seafood dinners—which, I wager, you will remember for years. Gümüşlük stands on the site of the ancient Carian city of Myndus whose seafront sections slid into the sea in some long-forgotten earthquake. Today these barely submerged remains are a magnet for snorkelers and underwater photographers.
35nm
Day 13 Gumusluk – Mersincik
Another long leg with an early start. Return leg will be long and mostly downwind. We anchor at Mersincik, a lovely bay fronted by steep pine-covered slopes and pebble beaches.
35nm
Day 14 Mersincik – Datca Cairos Marina
Departure is early again for this leg. After a swimming break We go downwind for our marina. You can leave tonite or spend a night at Datca restorants. Saturday morning boats will be cleaned, So you need to leave before 9:00
20nm
TOTAL
310nm
ACCOMODATION
You will stay in sailing boat 14 nights in 2 weeks program
Our boats have 4 cabins and also skipper cabin.
We train maximum 6 people in one boat and maximum 8 with guests.
We provide bed sheets, pilow cover and towel for every person
FOOD
Crew of each boat make a common shopping and share costs. We provide suggested shopping list. People might cook inside or enjoy local food of a local restaurant in bays. Skippers food are paid jointly.
PROGRAM
We stop in a different bay or island every evening. Our routes are published yearly and they can be Turkish coast or Greek islands depending on particular week. (

Program

)

There is free time till 10:00 for people in training, and till 12:00 for rest. Skipper organize a trek for a historical ruin or nature every morning at 8:00 before breakfast. People might join.

In our region Wind usually starts around 12:00, So we start sailing around noon for next location.

We arrive to our next destination afternoon - evening. People can enjoy sun, sea and nature, or walk around to explore as their free time.

We goto dinner togather every night and enjoy long conversations. After dinner people might choose to do some activities togather like playing games, more conversation or peace of nature.
CHECK-IN and CHECK-OUT
Saturdays are our check-in and meeting day. Our boats are at Cairos Marina C pantoon.You can check in anytime after 16:00 and settle.

We make our first briefing after 17:00 and goto shopping. We have our first dinner at marina togather, and then people can explore Marmaris night life.

Sundays are our first day of sailing. We finish last minute shoppings and start sailing around noon.

Our tours ends Fridays (2 weeks later) after 17:00. You may leave the boat or stay one more night to enjoy Marmaris. Boat have to be empty by 10:00 on Saturday by 10:00 for cleaning.
PRICES
Two weeks of sail training, trip to GOKOVA starts from 1500 Euros. Bareboat Skipper License is an additional 200 Euros.
RESERVATION
You can call Tansel +90(541) 4561366 or Wesley +90(539)3085771, Email us: This email address is being protected from spambots. You need JavaScript enabled to view it. or make a self-reservation from our web

reservation

.
We require a 25% deposit in order to confirm your reservation. You will receive a confirmation form after your payment.
Tags:
SAILING TRIP TO HISARONU GULF
Tags: Gokova, gökova sailing, gökova tour, gökova sailing tour, sailing tour, sailing vacation, knidos, mersincik, çatı, bördübet, balıkaşıran, 7 islands, karacasöğüt, okluk, sailing training,