Gocek - Fethiye Gulf Tour Plan
SAILING TRIP TO GÖCEK, FETHİYE, KAŞ, KALKAN

Ekincik, Göcek, Kapı koyu, Hamam koyu, Fethiye, Gemiler adası, Soğuksu, Kaş, Kalkan :
We invite you to join Gocek - Fethiye Gulf, Kas, Kalkan sailing training tour and explore the natural beauty of the Mediterranean and Aegean Sea ; swim on pristine white beaches, stroll through unspoilt villages, explore perfectly preserved historic ruins...what are you waiting for? Come join us on Gocek tour and immerse yourself in the relaxing Aegean culture, witness the countless hues of blue and green, as the sea, sky and land merge into a breathtakingly beautiful visualization of the surrounding natural environment. Let all your worries be washed away by the gentle swell and all your frustrations whisked away by the lazy breeze. Start every day with absolute peace, as you awaken to the hypnotic lapping of waves upon the hull and dive into the crystal clear sea.
The shoreline of the Fethiye gulf is dotted with hundreds of bays, coves and harbours; making it a truly unique place to visit. This allows us to visit a different bay every evening, taking in the breath-taking scenery and relaxing in tranquil fjords.
Vacation aboard our IYT-certified training yachts, all the while learning the art of sailing and forging an unforgettable vacation experience. Once you successfully complete the training course, you will be awarded with an IYT certificate that will allow you to charter a yacht anywhere in the world. You can view the various IYT certificates we offer on our IYT License page.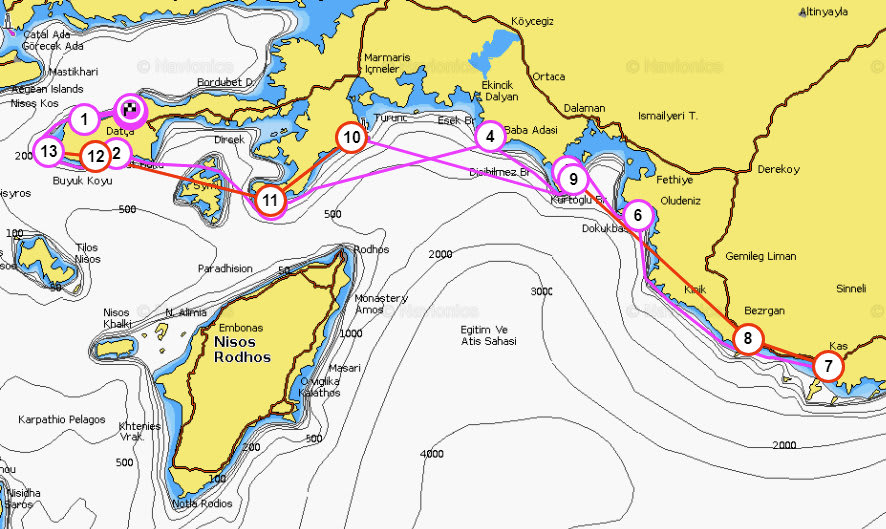 PROGRAM
Day 1 Datça - Cairos Marina
Our yachts are based in Cairos Marina . Arrive to the yacht and spend the night aboard in the Marina. You can also use the opportunity to do some shopping in the marina and stock up for your sailing trip.
0nm
Day 2 Cairos Marina - Mersincik
Sunday: After breakfast, we conduct a group shopping. As soon as we are ready, we depart from marina. We anchor at Mersincik, a lovely bay fronted by steep pine-covered slopes and pebble beaches , surrounded by lovely forests which add colour to the setting of clear blue waters and yellow sandy seabed. It is an inviting place and very popular with yachts. Mersincik Limanı is an attractive place with the many olive trees covering the slopes.
35nm
Day 3 Knidos - Hayitbuku
We start our 3rd leg at around noon, sailing past the romantic island of Symi, towards our next stop. Hayitbuku is a small bay hidden by mountains and cliffs. You can sail past it and not even notice this miniature harbour. Due to its isolated location, it's not a popular tourist spot and is generally quite peaceful. Complete with sandy beaches, it offers an array of hiking routes that present wonderful views of the surrounding coast.
35nm
Day 4 Hayitbuku - Bozukkale
Start the second day of your sailing adventure with an upwind trip to Bozukkale. Bozukkale is one of the preferred harbours for shelter from the prevailing winds. The water is very clear in this beautiful bay and there is no civilization. It has primitive restaurants that have to even bring water with boats and generate a couple of hours of electricity with generators. Ruins of an ancient castle can be seen from seaward, even before entering the bay. The castle walls are still standing, supported by massive rock-hewn bastions.
35nm
Day 5 Bozukkale - Ekincik
Ekincik, a Turkish seaside utopia. A magical place where mountain, sea and forest meet. Hikers will love the panoramic views; divers will be fascinated by the abundance of marine life and sailors will appreciate the sheltered coves. Well-known people have often been spotted relaxing at this seaside paradise, including Sting, Dustin Hoffman, Princess Caroline and Princess Margaret, among others!
35nm
Day 6 Ekincik - Gobun (Gocek gulf)
Today is really scenic and interesting passage. We pass by Iztuzu beach, Dalyan, Sarıgerme and the Dalaman shore. Then we will arrive to the vast Gocek Gulf, after passing though a narrow strait. The bustling port of Göcek, the untouched rural mountain villages above Göcek – with superb walking trails, the nature reserves, historic ruins and fabulous beaches of the Dalian Delta: all provide a taste of the uniqueness of Turkey. This region is the heart of ancient Lycia and host to a number of historic sites amongst which Kadyanda, Kaunos, Tlos, Pinara, Letoon, Xanthos and Patara are particularly noteworthy. Wonderful experiences can be had by simply meandering along the myriad of mountain roads, heading nowhere in particular, just soaking in the astounding scenery and happening across villages where time appears to have stood still. Dramatic mountains, stunning beaches, cosmopolitan ports, rustic villages and the wonderful islands of the gulf all combine to provide a snapshot of the diversity that makes Turkey and in particular the Lycian Coast so special. The ambience is relaxed and unspoilt without a hint of mass-market tourism, as Göcek has always catered for the independent visitor and, thankfully, its services are designed with a view to quality not quantity. Our first stop is Gobun Bay. The entrance of the bay is very narrow, but once inside you will find a long bay surrounded by olive and pine trees. At the far end of the bay you will find some rock cut tombs and ruins.
35nm
Day 7 Gocek – Gemiler Islands
After we leave the Gulf of Gocek behind us, we reach the Island of Ships, which is opposite a small inlet. The space between the island and the shore is a natural shelter for yachts. The island is rife in historical works of art and the church of St. Nicholas is located here, giving the island its other name, the Island of St.Nicholas. Although it has been recently

suggested that the tomb of St.Nicholas might have been here, the accepted fact is that the tomb is in Myra. Surveys made by a Japanese team in 1990, located 11 churches in the area. Four of these are on Gemiler island, one of them is on Karacaören Island, while the others are near the village of Oludeniz and Karaören. Gemiler Island and its surrounding area, is seen as an important center for Christianity. The island is mostly rocky, therefore the churches are carved into stone and the ruins continue straight into the sea.

25nm
Day 8 Gemiler Island – Kas
We will have another long trip today which is a norm for this tour. One of the most beautiful ports during this tour is Kas and one may linger here for a long time. The town is located on the site of ancient Antiphellos, whose well preserved theater may be visited today. Ancient sarcophagi lie scattered about and there are numerous Lycian rock tombs in the cliffs. It is a beatifull town with an ambiance of its own. It is hard to describe...you just have to feel it for yourself!
45nm
Day 9 Kas – Aga Limanı (Gocek)
This leg will be very long and with hard strong upwind. We will sail to the outer part of the Gocek Gulf, anchoring in a bay called Aga Limani.
55nm
Day 10 Aga Limanı- Ciftlik
Ciftlik, a Turkish seaside paradise. After swimming and snorkelling in the crystal clear water, dinner is served in the local restuarant of Rafet Baba (best seafood in the region). Usually dinner continues well into the evening, the night being filled with laughter and memorable conversations. Water, electricity, wi-fi, hot showers and toliets are provided by the restuarant.
45nm
Day 11 Ciftlik - Bozukkale
Start the day of your sailing adventure with an upwind trip to Bozukkale. Bozukkale is one of the preferred harbours for shelter from the prevailing winds. The water is very clear in this beautiful bay and there is no civilization. It has primitive restaurants that have to even bring water with boats and generate a couple of hours of electricity with generators. Ruins of an ancient castle can be seen from seaward, even before entering the bay. The castle walls are still standing, supported by massive rock-hewn bastions.
30nm
Day 12 Bozukkale – Palamutbuku
A long and hard return leg to Palamutbuku. A small settlement located on Datça peninsula, on the shore of a picturesque bay. Azure sea and houses wallowing in almonds is a typical sight and a signature style of Palamutbuku. The sea is very clean here with more than 20-meter visibility; you will often come across underwater fishing lovers and a lot of yachtsmen. On the outskirts of Palamut there are sand and pebble beaches that stretch for over 2 km, which is not a usual thing to see in this area. In the older days people used to be occupied in fishing, but today the settlement profits exclusively from tourism. There are several hotels on the territory of the settlement; villas are rented out to fans of a solo retreat.
35nm
Day 13 Palamutbuku – Knidos
Departure is early for this leg, since we will have a lengthy upwind haul. Our reward is the lovely bay of ancient city Knidos. Although Knidos was originally founded as a Spartan colony on the site of the present town of Datca in the 7th century B.C., its inhabitants relocated it at a later date to its present site at the tip of the Resadiye promontory. It was nominated as one of the wonders of world. is one of our favorite anchor spots. It was an ancient Greek city of Caria, part of the Dorian Hexapolis. It was situated on the Datça peninsula, which forms the southern side of the Sinus Ceramicus, now known as Gulf of Gökova. You can wander through most of this huge ancient city. The accompanying bay is also a lovely place to swim and views from the nearby lighthouse are fantastic!
25nm
Day 14 Knidos – Datca Cairos Marina
Departure is early again for this leg. After a swimming break We go downwind for our marina. You can leave tonite or spend a night at Datca restorants. Saturday morning boats will be cleaned, So you need to leave before 9:00
30nm
TOTAL
465nm

ACCOMODATION
You will stay in sailing boat 14 nights in 2 weeks program
Our boats have 4 cabins and also skipper cabin.
We train maximum 6 people in one boat and maximum 8 with guests.
We provide bed sheets, pilow cover and towel for every person
FOOD
Crew of each boat make a common shopping and share costs. We provide suggested shopping list. People might cook inside or enjoy local food of a local restaurant in bays. Skippers food are paid jointly.
PROGRAM
We stop in a different bay or island every evening. Our routes are published yearly and they can be Turkish coast or Greek islands depending on particular week. (

Program

)

There is free time till 10:00 for people in training, and till 12:00 for rest. Skipper organize a trek for a historical ruin or nature every morning at 8:00 before breakfast. People might join.

In our region Wind usually starts around 12:00, So we start sailing around noon for next location.

We arrive to our next destination afternoon - evening. People can enjoy sun, sea and nature, or walk around to explore as their free time.

We goto dinner togather every night and enjoy long conversations. After dinner people might choose to do some activities togather like playing games, more conversation or peace of nature.
CHECK-IN and CHECK-OUT
Saturdays are our check-in and meeting day. Our boats are at Cairos Marina C pantoon.You can check in anytime after 16:00 and settle.

We make our first briefing after 17:00 and goto shopping. We have our first dinner at marina togather, and then people can explore Marmaris night life.

Sundays are our first day of sailing. We finish last minute shoppings and start sailing around noon.

Our tours ends Fridays (2 weeks later) after 17:00. You may leave the boat or stay one more night to enjoy Marmaris. Boat have to be empty by 10:00 on Saturday by 10:00 for cleaning.
PRICES
Two weeks of sail training, trip to GOCEK, KAS, KALKAN starts from 1500 Euros. Bareboat Skipper License is an additional 200 Euros.
RESERVATION
You can call Tansel +90(541) 4561366 or Wesley +90(539)3085771, Email us: This email address is being protected from spambots. You need JavaScript enabled to view it. or make a self-reservation from our web

reservation

.
We require a 25% deposit in order to confirm your reservation. You will receive a confirmation form after your payment.
Tags:
SAILING TRIP TO HISARONU GULF
Tags: Gocek sailing tour, gocek sailing, gocek, fethiye, kas, kalkan, fethiye, , sailing tour, sailing vacation, sailing trip, sailing training,