Hisaronu Gulf Tour
SAILING TRIP TO HISARONU GULF

Selimiye, Orhaniye, Söğüt, Datça. Bencik and many other small bays : >
We invite you to join our popular Hisaronu Gulf sailing tour and explore the natural beauty of the Mediterranean and Aegean Sea ; swim on pristine white beaches, stroll through unspoilt villages, explore perfectly preserved historic ruins...what are you waiting for? Immerse yourself in the relaxing Aegean culture, witness the countless hues of blue and green, as the sea, sky and land merge into a breathtakingly beautiful visualization of the surrounding natural environment. Let all your worries be washed away by the gentle swell and all your frustrations whisked away by the lazy breeze. Start every day with absolute peace, as you awaken to the hypnotic lapping of waves upon the hull and dive into the crystal clear sea.
A popular route, visiting not one but actually two gulfs, particularly suitable for beginners. Sailing in the gulf means you will have continous winds and almost no waves: an ideal training ground! Dozens of attractive bays line the shores of both gulfs, meaning you can go out, sail and then visit a new anchorage every evening.
Relax aboard our IYT-certified training yachts, all the while learning the art of sailing and forging an unforgettable vacation experrience. Once you successfully complete the training course, you will be awarded with an IYT certificate that will allow you to charter a yacht anywhere in the world. You can view the various IYT certificates we offer on our IYT License page.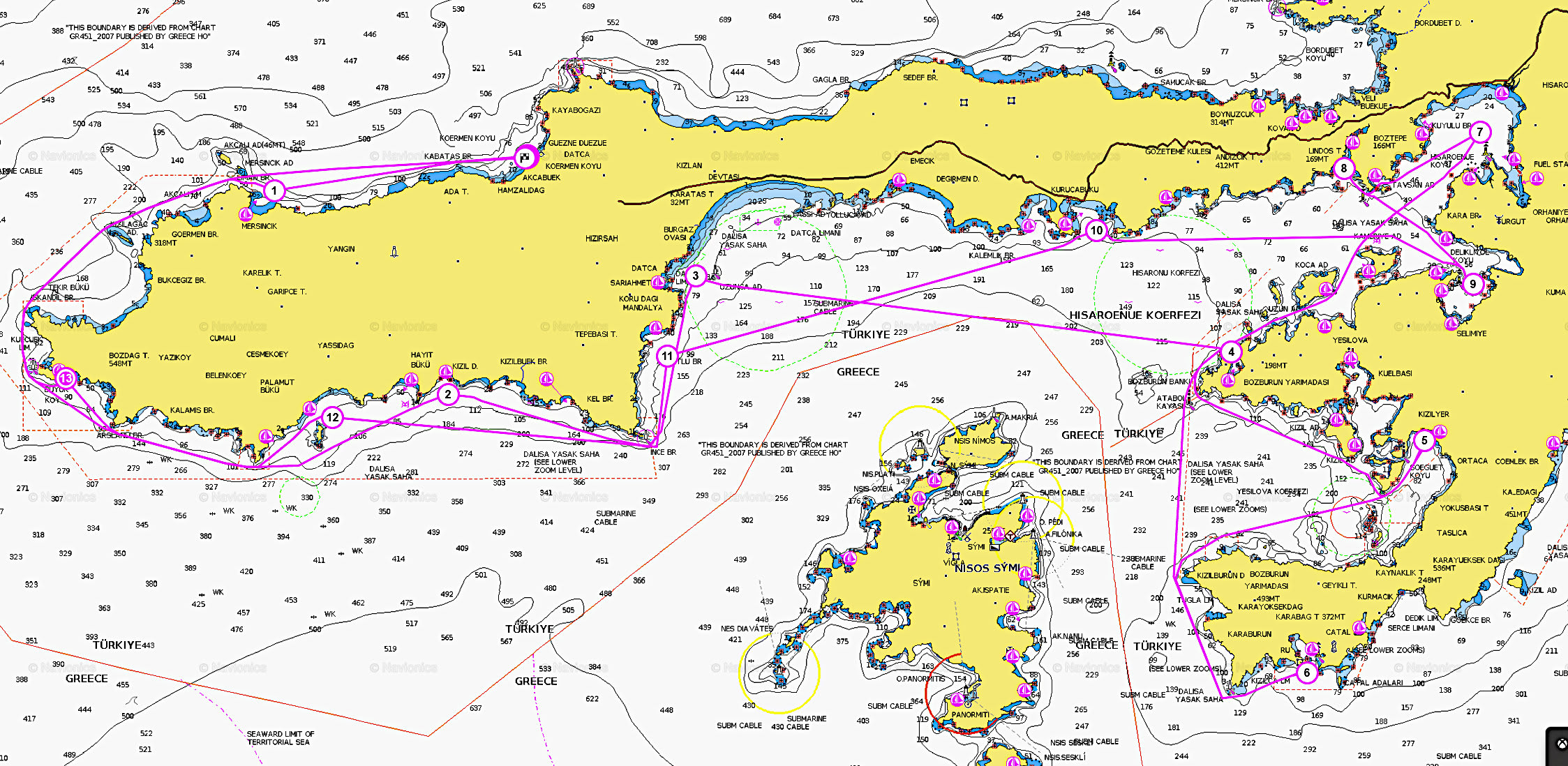 PROGRAM
Day 1 Datça - Cairos Marina
Our yachts are based in Cairos Marina . Arrive to the yacht and spend the night aboard in the Marina. You can also use the opportunity to do some shopping in the marina and stock up for your sailing trip.
0nm
Day 2 Cairos Marina - Mersincik
Sunday: After breakfast, we conduct a group shopping. As soon as we are ready, we depart from marina. We anchor at Mersincik, a lovely bay fronted by steep pine-covered slopes and pebble beaches , surrounded by lovely forests which add colour to the setting of clear blue waters and yellow sandy seabed. It is an inviting place and very popular with yachts. Mersincik Limanı is an attractive place with the many olive trees covering the slopes.
35nm
Day 3 Knidos - Hayitbuku
Start the second day of your sailing adventure with an upwind trip to Hayitbuku. Hayitbuku is a small bay hidden by mountains and cliffs. You can sail past it and not even notice this miniature harbour. Complete with sandy beaches, it offers an array of hiking routes that present wonderful views of the surrounding coast..
25nm
Day 4 Hayitbuku - Datca
The spindly, 50-mile-long Datça peninsula in Turkey's Muğla province is a dagger of pure green at the meeting point of the Aegean and the Mediterranean, and is as unsullied as south-west Turkey gets. The ancient Greeks believed Datça to have been created personally by Zeus, so gorgeous are its rocky outcrops and aquamarine waters. The geographer Strabo apparently said: "God sent his beloved creatures to Datça for them to live longer." It's about craggy, pine-crested hills, endless olive groves, empty ravines, cornflower-blue coves, vast sweeping bays and deserted beaches, air scented with thyme, rosemary and sage, and sleepy villages. It's about goats on the road and old men tinkering with their worry beads in vine-covered cafes.
25nm
Day 5 Datca – Dirsekbuku
Usually we start late, because people don't want to leave Datca. We have short and fun upwind leg sailing towards the romantic island of Symi. Dirsekbuku is a deep inlet situated on the cape between the Gulf of Hisaronu and the Gulf of Yesilova. Due to the protective shelter it offers, the bay is popular with all manner of yachts, be it blue-water cruisers or chartered boats. No roads lead to this peaceful natural harbour and it only boasts a small primitive restuarant.
20nm
Day 6 Dirsekbuku - Sogut
We start our 3rd leg at around noon, then we turn to Yesilova Gulf. The small hillside village of Sogut lies near the head of a large bay on the eastern side of the gulf, within easy reach of 16 small, uninhabited islands, heavy with the scent of wild oregano. The craggy, burnt slopes about the bay have a savagely rugged, wild aspect and the ruins of an ancient fortress, thought to be ancient Thyssanus, sit atop a rocky knoll nearby. Rigorous conservation laws on this stretch of coastline have strictly controlled development and ensured that Sogut remains charmingly unspoilt. One imagines that life has changed little here in hundreds of years. Blue bee hives are a recurrent feature on the landscape, their occupants hard at work producing the thyme-scented honey for which the region is famed. The ruins of an ancient fortress lie on the southern shore of the cove and you will see hundreds of pieces of amphora scattered on the sea bed. One of the best seafood restorants in this region is situated here, right in front of our berth. You will enjoy the dining here, as much as the quality of the facilities. Most of our students desire to return here on the trip back.
30nm
Day 7 Sogut - Bozukkale
Start another day of your sailing adventure with an upwind trip to Bozukkale. Bozukkale is one of the preferred harbours for shelter from the prevailing winds. The water is very clear in this beautiful bay and there is no civilization. It has primitive restaurants that have to even bring water with boats and generate a couple of hours of electricity with generators. Ruins of an ancient castle can be seen from seaward, even before entering the bay. The castle walls are still standing, supported by massive rock-hewn bastions.
25nm
Day 8 Bozukkale – Orhaniye
Departure is noon for this leg, sailing in Hisaronu Gulf. Orhaniye is a large bay at the head of the Gulf of Hisaronu, at the head of the bay is the central village, which backs up into a valley. Orhaniye boasts a beautiful landscape: lush pine forests line the shore, divided by sandy beaches. Due to its protected location, the sea is very calm in the bay: reflecting the forests' green like a mirror. One of the most surprising things you will see in Orhaniye is people walking on water...or at least seem to be. On closer inspection, it is revealed that a thin sandy bar stretches across the bay, dividing it in two! Only ankle to knee deep, this 600 meters of sand is called "Kizkumu" and has a local legend. In the middle of the bay lies a small, steep-to island; here you can find the ruins of an ancient castle, based on the islands summit. The castle is believed to belong to ancient city of Baybassos. Baybassos was a Carian city and is located on one of the mountain peaks that encompass Orhaniye. You may explore the city but this requires winding your way up along a dirt road first, then continuing the trek on foot. The aid of local villagers will be required since the city is un-mapped and there are no directions... Simply a glimpse of the stunning views that can be witnessed from the ruined city are worth the climb!

25nm
Day 9 Orhaniye – Bencik
Departure is around noon for this leg, since there is no hurry. We will sail as much as we wish and then we make our way to one of our favorite anchorages, Bencik. About a mile in length, located on the narrow isthmus that joins the Datca peninsula with the mainland, Bencik offers a quiet and protected anchorage amongst a thick pine forest. You can hike to Kargi Cove through pine forests while enjoying the panorama of Simi and Rhodes. You may also visit the abandoned monasteries and ancient cisterns; still used by the villagers to this day. According to Heredot, in 550 B.C., the Persians were assualting Datca peninsula with an army commanded by Harpagos. The people of Knidos wanted to dig a canal through the isthmus that connects the Datca peninsula as a defensive line against the Persians. That way they would make the peninsula into an island, thus reinforcing their defense.

Their plan ultimately failed and Knidos was ransacked by the Persians.

15nm
Day 10-1 Bencik – Selimiye
Another lazy start today. We are heading towards Selimiye. Depending on the weather we choose between Selimiye and Akbuk. We sail around the Gulf of Hisaronu all day and then head for our destination. As you approach Selimiye, you get the feeling that this is going to be a very special place, and it is. For such a small village, there are plenty of places to eat and drink. The Sardunia restaurant is well known by Turks nationwide, travelling from as far as Istanbul to dine here. Fish baked in a salt oven is just one of the many specialties, but whatever you order, you are sure to enjoy it. Selimiye is also one of the natural harbours that have provided quiet service to sailors over the years. Livestock, olives, almonds, fishing and the construction of wooden boats are the main sources of income of this pearl of Hisaronu Gulf. The locals are warm and friendly, which attracts people to them. There are three important historical sites in the region, one is located on the highest hill of Selimiye, the other on the top of Sarikaya and the last one in Asarkale Kızılkoey district. Also, the work of an American underwater archaeologist who spent three years exploring shipwrecks has survived to this day and can be seen at the Bodrum Underwater Ship Museum. Selimiye is a great place for those who want to eat the freshest seafood, vegetables and fruits, swim in the azure sea, relax and find inner peace.
15nm
Day 10-2 Selimiye - Akbuk (Kurucabuk)
This will be a relatively harder, upwind leg to Akbuk. Akbuk is one of the larger bays of the Hisaronu Gulf. The clarity of the water is simply amazing, tinted a deep blue. Here you can witness the cerulean sea blend together with the surrounding chartreuse landscape, an unforgettable scene! Ashore lies the Datca-Akbuk Holiday Village, a resort developement built in the central bay. This complex has a couple of restaurants, summerhouses and a camping facility. We anchor in the furthest bay, undisturbed by the hustle and bustle of tourism.
25nm
Day 11 Akbuk – Armutlusu
We start our return with this leg, heading to Armutlusu Bay near Datca. A hidden cove lies on the north of Armutlu Burnu, intends to the west, for about 150m, it is a nice alternative for fair weather anchoring. The reefs, extending from the tip of the points at the entry. There is just room for a few boats for anchorage.The bottom on the west is sand. Nice spot for snorkeling. The water is so clear to recognize the bottom, you can see numerous hues of blue.
25nm
Day 12 Armutlusu – Palamutbuku
A long and hard return leg to Palamutbuku. A small settlement located on Datça peninsula, on the shore of a picturesque bay. Azure sea and houses wallowing in almonds is a typical sight and a signature style of Palamutbuku. The sea is very clean here with more than 20-meter visibility; you will often come across underwater fishing lovers and a lot of yachtsmen. On the outskirts of Palamut there are sand and pebble beaches that stretch for over 2 km, which is not a usual thing to see in this area. In the older days people used to be occupied in fishing, but today the settlement profits exclusively from tourism. There are several hotels on the territory of the settlement; villas are rented out to fans of a solo retreat.
35nm
Day 13 Palamutbuku – Knidos
Departure is early for this leg, since we will have a lengthy upwind haul. Our first stop is the lovely bay of ancient city Knidos. Although Knidos was originally founded as a Spartan colony on the site of the present town of Datca in the 7th century B.C., its inhabitants relocated it at a later date to its present site at the tip of the Resadiye promontory. It was nominated as one of the wonders of world. You can wander through most of this huge ruined city. The accompanying bay is also a lovely place to swim and views from the nearby lighthouse are fantastic! It is one of our favorite anchor spots. It was an ancient Greek city of Caria, part of the Dorian Hexapolis. It was situated on the Datça peninsula, which forms the southern side of the Sinus Ceramicus, now known as Gulf of Gökova.
25nm
Day 14 Knidos – Datca Cairos Marina
Departure is early again for this leg. After a swimming break We go downwind for our marina. You can leave tonite or spend a night at Datca restorants. Saturday morning boats will be cleaned, So you need to leave before 9:00
30nm
TOTAL
355nm

ACCOMODATION
You will stay on board the yacht for 14 nights in a typical two week program
Our sailing yachts have 4 cabins plus an additional skippers' cabin..
We take a maximum of 6 people on one yacht
We provide bed sheets, pillow covers and a towel for each person
FOOD
The crew of each sailing yacht will make a collective shopping and share costs equally. We can provide a suggested shopping list. People can decide on whether to cook on board or enjoy local delicacies in seaside restaurants. The Skipper/Instructor is fed at the crews' expense.
PROGRAM
We stop in a different bay or island for each night. Our routes are published yearly and they will be either along the Turkish coast or Greek Islands depending on the particular week(s). You can browse through our routes here:(

Program

)

In the morning, an optional tour/trek will be organized by the Skipper at 8:00 AM to visit a historical site or just enjoy nature. Theory is taught after breakfast (10:00-12:00)

In our region, the wind usually picks up at around 12:00 PM, so we depart for our next location at around noon.

After arrival to our destination (16:00-18:00), people will have free time until dinner. You may choose to swim, rest, study or go for a nature walk.

Dinner is held at 19:30 and continues for a few hours as we enjoy the local cuisine and indulge in conversation. After dinner you may participate in playing games (cards, chess, etc.), listening to music or just enjoying nature…
CHECK-IN and CHECK-OUT
Saturday is check-in and meeting day. Our sailing yachts are located in Cairos Marina (on C Pontoon) .You can check in anytime after 16:00 and settle on board.

Our first briefing is held at approximately 17:00 and then we stock up on provisions. We have our first dinner together in the marina and afterwards people can explore the colorful Marmarisian night life!

Sunday is our first day of sailing. We finish last minute shopping and start our voyage around noon.

Our sailing tour ends Friday (1 or 2 weeks later); after 16:00. You may leave the yacht or stay one more night to enjoy Marmaris. All Yachts have to be empty by 10:00 on Saturday morning to allow for cleaning and preparation for the next group.
PRICES
Two weeks of sail training, trip to HISARONU starts from 1500 Euros. Bareboat Skipper License is an additional 200 Euros.
RESERVATION
You can call Tansel +90(541) 4561366 or Wesley +90(539)3085771, Email us: This email address is being protected from spambots. You need JavaScript enabled to view it. or make a self-reservation from our web

reservation

.
We require a 25% deposit in order to confirm your reservation. You will receive a confirmation form after your payment.
Tags:
SAILING TRIP TO HISARONU GULF
Tags: Hisaronu sailing, sailing training, sailing tour, sailing vacation, çiftlik, bozukkale, bozburun, söğüt, selimiye, orhaniye, bencik, akbuk, sailing school,